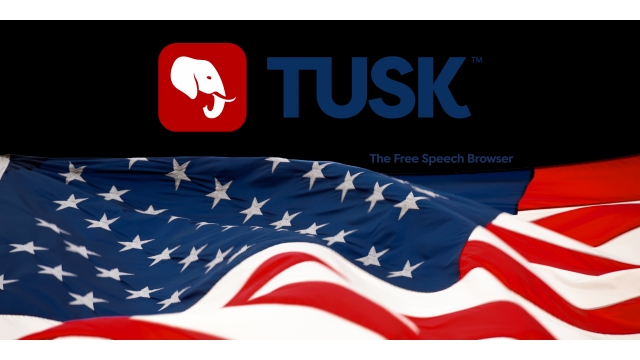 The newly launched TUSK web browser allows users to access websites and news outlets unimpeded by censorship or liberal bias. Users filter their own news feeds to show only articles from media outlets that they trust.
More details can be found at https://tuskbrowser.com
In the polarized political climate of today, finding honest, reliable, and unbiased news sources can be difficult. A recent Pew survey found that 72% of Americans think websites intentionally censor political views at odds with their own. In addition, 65% of Americans think that the majority of this censorship is controlled by left-leaning, liberal organizations.
TUSK is the first and only "Freedom First" web browser with uncensored news coverage. The browser's built-in News Feed features stories from popular right-leaning media organizations. The feed can also be customized to show only stories from outlets that the user wants to see.
TUSK also features its own unique built-in search engine. Though still in the prototype stage, the search engine is being designed with American Patriots in mind and will provide uncensored access to information that is free of any liberal bias. However, in keeping with their stance on "freedom," TUSK will still allow users to use whichever search engine they prefer.
With TUSK, users will also be able to browse the Internet more securely and privately. TUSK uses SSL or HTTPS, when available, to protect users from being seen and tracked by others including IP providers and public Wi-Fi networks. TUSK also allows users to easily delete their browsing history and cookies.
"I realized there was no conservative browser, so all the browsers, all the search engines, are all liberal-biased, they're all to the left," said TUSK Founder and CEO Jeff Bermant. "They want you to see what they want you to see. They want you to read what they want you to read. And I realized after we built browsers for 12 years, we need to change that."
TUSK is available for both Android and iOS mobile as well as desktop devices. No account or registration is required to use TUSK.
Interested parties can find more information at https://tuskbrowser.com
TUSK
jeff@tuskbrowser.com
5383 Hollister Ave., Suite 120
United States
COMTEX_425687765/2764/2023-03-01T00:07:27
Disclaimer: The views, suggestions, and opinions expressed here are the sole responsibility of the experts. No Study Champ journalist was involved in the writing and production of this article.